Pool Leak Detection Experts in Cooper City, Florida
Leaks are not only a waste of money, but they can significantly compromise your enjoyment of your pool or spa. It's crucial that they're dealt with as soon as possible and why you should call a pool leak detection company in Cooper City. At Florida Leak Locators, we've been helping residents in Cooper City overcome common leaks.
Leaks are some of the most common problems that pool owners will have to deal with. Before taking action and dealing with the leak, it's important to first determine what may have caused the leak to begin with. This will arm you with knowledge on how to deal with the problem.
Some of the most common sources of pool leaks include:
Structural damage

Broken vacuum line

Main drain leaking near mud ring

Skimmer with holes or leaks

Pool or Spa light broken conduit

Broken return line
Above all, if you notice a rising water bill, it's likely a sign that you have a leak. Our team will do an excellent job at inspecting your pool or spa and finding out what the core of the matter may be.
How Are Pool Leaks Repaired?
The techniques and mechanisms that are implemented to fix a leak in the pool will vary. It depends on how and where the pool or spa is leaking. Some repairs will require us to excavate the deck and dig down to the broken pipe, cut that part out and re-plumb it. It's best to leave it to our experts here in
Cooper City
.
Some common repairs that we perform include:
Fittings Leak: Leaks near the pool's lights, faceplates, or jets can usually be temporarily patched by applying a two-part pool epoxy

Plumbing Leaks: These can be cracked or broken underground pipes located outside the pool shell. This requires a licensed contractor such as Florida Leak Locators, who is experienced in pinpointing leaks and pool repair, so you get it fixed properly the first time. Sometimes, the only option is to dig around the pool's foundation to replace the section of broken pipe.

Main Drain Leaks: Many leaks in a pool's main drain are located in the sump itself.  Applying a temporary epoxy patch can stop the leak and a more permanent repair can be done in the near future. However, if you have a broken main drain pipe many times you can plug it and turn it off at the equipment side to prevent further leaking while waiting for the repair

Skimmer Leak: This may be patched with epoxy for a temporary fix until the skimmer can be replaced
Our team will first need to identify what the problem is to then determine the proper repair.
Commercial Pool or Spa Leak Repair in Cooper City
Florida Leak Locators also provides leak detection for pools and spas located in businesses. If you suspect that there's a leak in your commercial pool or spa, give us a call right away. We'll determine where the leaking is from and have it repaired ASAP so you can avoid upset customers.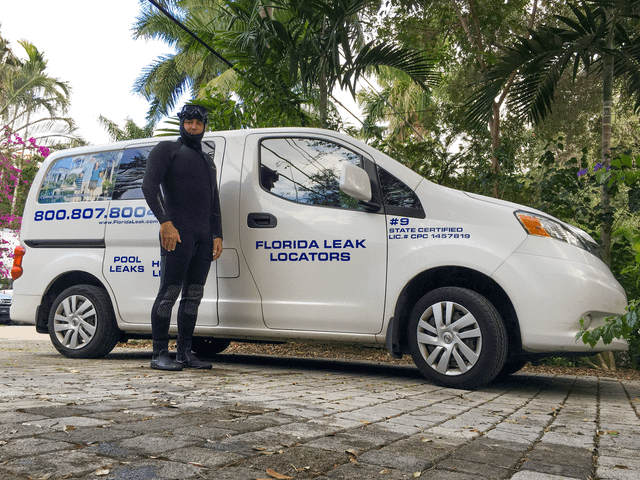 How Do I Find A Pool Leak Detection Service Near Me?
If you're looking for the best in pool leak detection and repair in Cooper City, you cannot go wrong with Florida Leak Locators. We are a locally-owned family business, and our team has over 50 years of combined experience in leak detection and pool repair services. Not only do we offer prompt services, but we also go out of our way to make sure that every job is done right from the beginning.
Our team is licensed, bonded, and insured, so our work is always up to code. We'll also take every opportunity to put your interests and needs first. You can rest assured that you're in good hands.
If you suspect a leak…
Schedule an appointment today!