Pool Leak Detection Experts in Ft. Lauderdale, Florida
When you have a pool leak in Ft. Lauderdale, it's more than just an inconvenience. If you notice signs of a leak to your pool or spa, it's time to call the expert pool and spa leak detection experts at Florida Leak Locators.
What Causes Pool Leaks In Ft. Lauderdale?
It's normal for the water level in your pool to get a little higher and lower over time due to evaporation or precipitation. However, dropping water levels are one of the main indicators of a leak.
Other signs of a leak in your Ft. Lauderdale pool or spa include:
Pool or spa has a cracked or broken return line
Broken vacuum line
Main Drain in pool or spa leaking around mud ring or the line is broken
Skimmer has a hole, crack, broken line, or is pulling away from the pool shell
Pool or Spa light conduit is broken or mud ring is leaking
Leak around pool fittings
Spa jet-line broken
Structural or Beam cracks
These are the most common reasons for a leak in your pool or spa. However, plumbing damage is the other main cause. Over time, the pipes supplying your pool could leak or there could be problems with the pool equipment itself. It is important to choose a well-reviewed pool leak repair service, such as Florida Leak Locators, to guarantee that the problem is effectively fixed.
How Are Pool Leaks Repaired?
How pool leaks are repaired begins with finding the root cause. When the tech from Florida Leak Locators arrives, the first thing they do is thoroughly inspect the pool or spa and its plumbing. Then, we make a plan for repairing the leak.
Some of the most common leak repairs are:
Fittings Leak: Leaks near the pool's lights, faceplates, or jets can usually be temporarily patched by applying a two-part pool epoxy
Plumbing Leaks: These can be cracked or broken underground pipes located outside the pool shell. This requires a licensed contractor such as Florida Leak Locators, who is experienced in pinpointing leaks and pool repair, so you get it fixed properly the first time. Sometimes, the only option is to dig around the pool's foundation to replace the section of broken pipe.
Main Drain Leaks: Many leaks in a pool's main drain are located in the sump itself. Applying a temporary epoxy patch can stop the leak and a more permanent repair can be done in the near future. However, if you have a broken main drain pipe many times you can plug it and turn it off at the equipment side to prevent further leaking while waiting for the repair
Skimmer Leak: This may be patched with epoxy for a temporary fix until the skimmer can be replaced
The longer you wait to repair a pool or spa leak, the worse it will get. You may end up with sky-high water bills too. Be sure to call our pool leak detection experts if you notice any of these issues.
Commercial Pool or Spa Leak Repair in Ft. Lauderdale
Florida Leak Locators also help commercial pool and spa owners in Ft. Lauderdale. We provide leak detection and repair so you can keep your pools and spas in the best shape for your customers. If you have a leak in your pool equipment at your Ft. Lauderdale business, give us a call.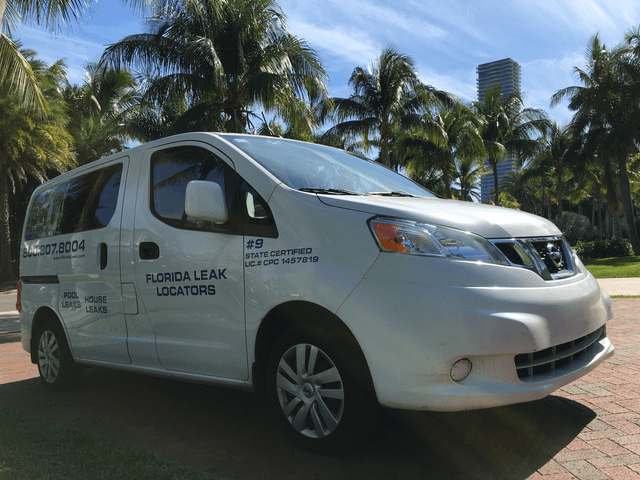 Pool Leak Repair Near You
Choose the best residential and commercial pool leak repair company in Ft. Lauderdale.
We have more than 50 years of combined experience finding and fixing pool and spa leaks. And we are licensed, bonded, and insured.
Contact us today for a complimentary estimate for your leak repair.
If you suspect a leak…
Schedule an appointment today!