Pool Leak Detection Experts in Kendall, Florida
When it comes to your pool or spa, it never hurts to be too careful. Residential and commercial pool owners in Kendall, Florida need to take proper care of their pools to ensure a long lifespan. For this reason, if you suspect a leak, you'll want to call a professional leak detection company like Florida Leak Locators right away.
Pool leaks in pools and spas can be caused by a handful of different situations. It's important to thoroughly inspect the pool to find any and all leak sources. After finding the source of the leaks, our objective is to get it fixed for you so you don't have any water loss.
Some common causes of pool leaks we come across include:
Skimmer is pulling out from the pool shell
Main drain line is broken, or there are leaks near the mud ring
Structural cracks
Broken return line
Pool light fixtures have leaking around them
Broken vacuum line
When you experience issues with any of these problem areas, it will result in a higher-than-normal water bill. Call us to avoid costly water bills and further damage to your pool or spa.
How Are Pool Leaks Repaired?
How a pool leak is repaired depends highly on where the leak is discovered and its cause. In most cases, we will apply an epoxy patch and then craft a permanent repair for our customers.
Common pool leak repairs are:
Fittings Leak: Leaks near the pool's lights, faceplates, or jets can usually be temporarily patched by applying a two-part pool epoxy
Plumbing Leaks: These can be cracked or broken underground pipes located outside the pool shell. This requires a licensed contractor such as Florida Leak Locators, who is experienced in pinpointing leaks and pool repair, so you get it fixed properly the first time. Sometimes, the only option is to dig around the pool's foundation to replace the section of broken pipe.
Main Drain Leaks: Many leaks in a pool's main drain are located in the sump itself. Applying a temporary epoxy patch can stop the leak and a more permanent repair can be done in the near future. However, if you have a broken main drain pipe many times you can plug it and turn it off at the equipment side to prevent further leaking while waiting for the repair
Skimmer Leak: This may be patched with epoxy for a temporary fix until the skimmer can be replaced
Commercial Pool & Spa Leak Repair in Kendall
Commercial businesses are often more invested in their pool and spa services because they relate back to customer satisfaction. If you offer a pool or spa as part of your business, you want to be sure it's in proper order at all times. You risk unhappy customers and costly water bills when you have pool and spa leaks. Thankfully, the team at Florida Leak Locators can provide commercial leak detection services for your business. Be sure to call us as soon as you suspect a leak at your business.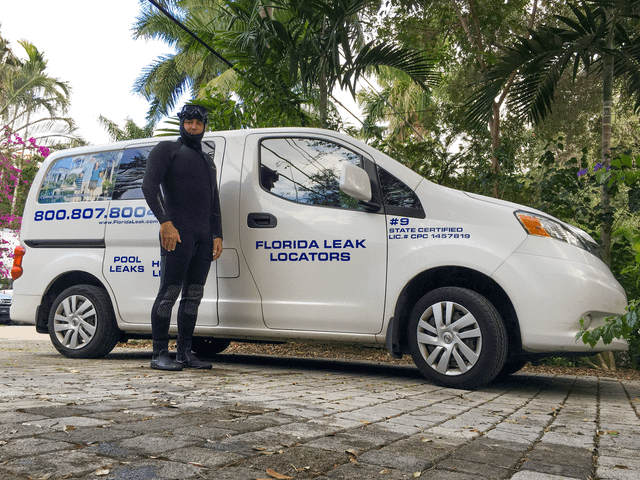 How Do I Find A Pool Leak Detection Service Near Me?
If you've been looking for a pool leak detection company in Kendall, you've found us. With over 50 years of combined experience, our family-owned business is fully insured, bonded, and licensed, and ready to help both residential and commercial customers. When you need pool leak detection and repair, think Florida Leak Locators.
If you suspect a leak…
Schedule an appointment today!