Pool Leak Detection Experts in Davie, Florida
If your water bill is jumping up while your water level is going down, there is a good chance you have a pool or spa leak. The good news is Florida Leak Locators can help find your pool leak and get it fixed as quickly as possible. We cover the city of Davie, as well as several other areas of south Florida.
Don't waste water and don't waste time – call us today if you suspect you have a pool leak.
There are a wide variety of reasons why your pool or spa might leak. Even the best-maintained pools will eventually spring a leak because there are situations out of your control.
Common sources of a pool leak include:
Pool or spa has a cracked or broken return line
Broken vacuum line
Main Drain in pool or spa leaking around mud ring or the line is broken
Skimmer has a hole, crack, broken line, or is pulling away from the pool shell
Pool or Spa light conduit is broken or mud ring is leaking
Leak around pool fittings
Spa jet-line broken
Structural or Beam cracks
Above all, if you notice a higher-than-usual water bill, you most likely have a leak.
How Are Pool Leaks Repaired?
There can be numerous ways to repair a leaking pool. Once we know where the leak stems from, we can provide the right repair solution.
Below are the common repairs we make:
Fittings Leak: Leaks near the pool's lights, faceplates, or jets can usually be temporarily patched by applying a two-part pool epoxy
Plumbing Leaks: These can be cracked or broken underground pipes located outside the pool shell. This requires a licensed contractor such as Florida Leak Locators, who is experienced in pinpointing leaks and pool repair, so you get it fixed properly the first time. Sometimes, the only option is to dig around the pool's foundation to replace the section of broken pipe.
Main Drain Leaks: Many leaks in a pool's main drain are located in the sump itself. Applying a temporary epoxy patch can stop the leak and a more permanent repair can be done in the near future. However, if you have a broken main drain pipe many times you can plug it and turn it off at the equipment side to prevent further leaking while waiting for the repair
Skimmer Leak: This may be patched with epoxy for a temporary fix until the skimmer can be replaced
Every pool and spa is different, but we're confident we'll be able to provide the right repair for you.
Commercial Pool or Spa Leak Repair in Davie
In-ground commercial pools and spas are an investment, and you need to protect that investment by hiring a professional company to handle your pool or spa leak repair. Leaks that are not addressed promptly can lead to high water bills and disastrous situations. Businesses in Davie depend on their pools and spas to help attract renters and guests, so you don't want to let yours fall into disrepair. Keep your customers happy by having Florida Leak Locators at your side.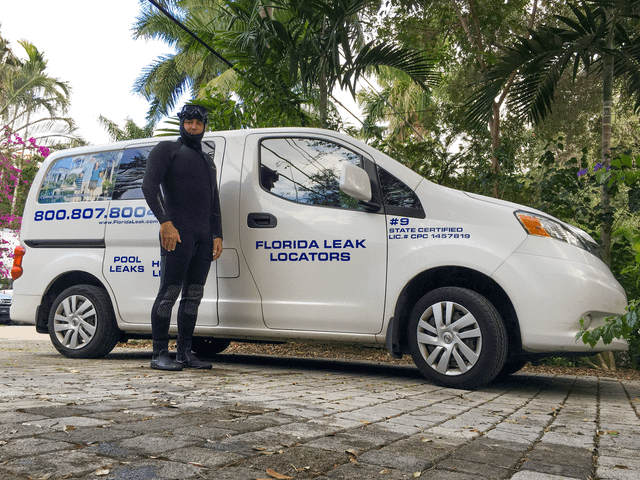 How Do I Find A Pool Leak Detection Service Near Me?
If you need a Davie pool leak detection service, the best thing you can do is search for a locally-owned business with experience addressing the needs of local property owners. Florida Leak Locators has the experience to make pool leak detection the easiest part of your day.
We're fully licensed, bonded and insured, and ready to help with your pool or spa leak. Give us a call as soon as you think you have a leak.
If you suspect a leak…
Schedule an appointment today!