Pool Leak Detection Experts in Palm Beach Gardens, Florida
Your Palm Beach Gardens swimming pool can offer years of enjoyment and enhance your home's property value. The downside of a swimming pool, however, is the need for maintenance–and, sometimes, repairs. Pools and hot tubs have a tendency to develop leaks over time. When they do, you need an experienced service like Florida Leak Locators to find and repair them.
What Causes Leaks in Pools & Spas?
There are many different factors that can cause a pool leak. Learning about them can help you maintain the wellbeing of your pool and, ideally, ward off expensive repair costs. In many cases, early leak detection will help you minimize pool damage and prevent repair costs from escalating.
Some of the most common cause of swimming pool and spa leaks include:
Broken pipes
Tree and shrub roots
Pipes not properly sealed to pool shell
Wear and tear–common as pools age
Deck settlement
Structural cracks
Temperature changes
You might suspect a leak if your pool loses more than a quarter inch of water in a 24 hour period. Some water loss is normal because of evaporation, but excessive loss indicates a leak may be present. Another good indicator of a leak is a sharp increase in your water bill.
Florida Leak Locators can visit your Palm Beach Gardens home to find the leak and identify what has caused it. Knowing the cause allows you to take care of it immediately, preventing further water loss.
In order to repair a leak, our technicians first identify where it is and what caused it. Those factors will impact what repair methods we employ.
Some of the pool repair techniques we favor include:
Main Drain Leaks: for main drain leaks, our technicians will repair the damaged section of the line by, first, cutting out the damaged section of the pipe, and then replacing it with a new section.
Fitting Leaks: worn-out gaskets and seals are common causes of fittings leaks. Our technicians will inspect the fitting, troubleshoot the issue, and make the necessary repair or replacement.
Skimmer Leak: to repair a skimmer leak, we'll use epoxy to create a temporary patch. The patch prevents additional leakage until a new skimmer can be installed.
If you find or suspect a leak, rely on Florida Leak Locators to deliver the professional leak repair service you need to safeguard your swimming pool.
Commercial Pool & Spa Repair in Palm Beach Gardens
Florida Leak Locators also provides commercial pool and spa leak detection for businesses in Palm Beach Gardens. As commercial pools are larger, even a small leak can lead to skyrocketing water costs and unhappy customers at your business. The sooner you call us, the sooner we can repair your leaking spa or pool.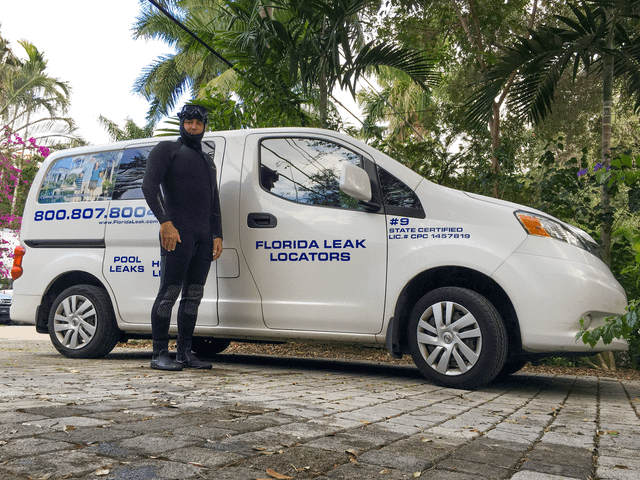 How Do I Find a Pool Leak Detection Service Near Me?
If you're looking for a pool leak detection service in Palm Beach Gardens, you've found the right service. Our family-owned business is renowned for our outstanding workmanship, prompt service, and fair pricing. We've been serving south Florida for over 50 years and have a great reputation with our customers. As licensed, bonded and insured experts, we'll determine the cause of your leaks so you can continue enjoying your pool for years to come.
If you suspect a leak…
Schedule an appointment today!