Pool Leak Detection Experts in Golden Beach, Florida
Some water loss is expected if you own a pool in Golden Beach, Florida, but if it seems like your pool is emptying more than a quarter inch every day, then it is time to call Florida Leak Locators. Our experienced team of pool and spa leak detection technicians will quickly troubleshoot the problem and get to the bottom of the situation.
What Causes Leaks in Pools & Spas?
Leaks in pools and spas can be caused by everything from damaged pool structures to cracked underground plumbing. In any case, it's important to get help from a leak detection expert as soon as you notice you've sprung a leak.
We also see these areas as causes of leaks:
Jet-line is broken
Broken or cracked return line
Skimmer has a crack or hole
Leak near light fixtures or other plastic fittings
Structural leaks
Main drain leaks near the mud ring
Don't risk a leak in your pool or spa. You could end up with additional damage to the pool and expensive water bills. Call Florida Leak Locators as soon as you notice potential leaks with your pool or spa.
There are several different ways that we can repair pool and spa leaks. Typically following a thorough leak detection inspection, we apply an epoxy patch that provides a temporary solution. Then we create a plan for permanent leak repair that will extend the lifetime of the pool or spa.
Common pool leak repairs are:
Fittings Leak: Leaks near the pool's lights, faceplates, or jets can usually be temporarily patched by applying a two-part pool epoxy
Plumbing Leaks: These can be cracked or broken underground pipes located outside the pool shell. This requires a licensed contractor such as Florida Leak Locators, who is experienced in pinpointing leaks and pool repair, so you get it fixed properly the first time. Sometimes, the only option is to dig around the pool's foundation to replace the section of broken pipe.
Main Drain Leaks: Many leaks in a pool's main drain are located in the sump itself. Applying a temporary epoxy patch can stop the leak and a more permanent repair can be done in the near future. However, if you have a broken main drain pipe many times you can plug it and turn it off at the equipment side to prevent further leaking while waiting for the repair
Skimmer Leak: This may be patched with epoxy for a temporary fix until the skimmer can be replaced
Commercial Pool & Spa Leak Repair in Golden Beach
Golden Beach business clients depend on Florida Leak Locators to keep their pools and spas open too. We understand that your commercial pool is highly entwined with your customer satisfaction and that you cannot afford a pool or spa to be out of commission for long. For that reason, we deliver both temporary and permanent repair solutions to keep your pool open and accessible in the interval between proper leak detection and permanent pool repair. Call us today if you suspect that you have a pool leak that is driving up your operating costs.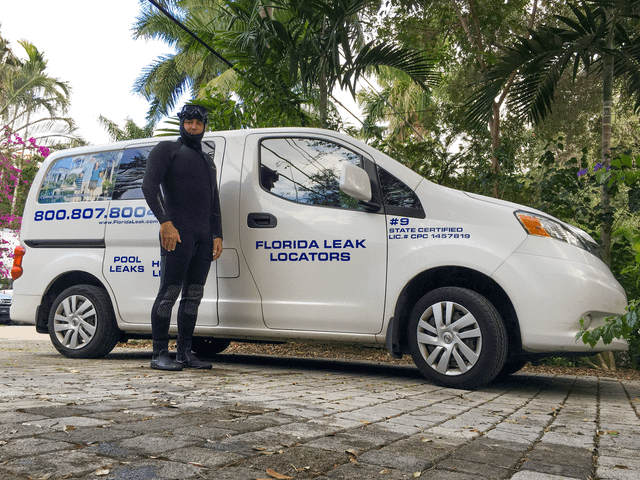 How Do I Find a Pool Leak Detection Service Near Me?
Pool leaks can get expensive fast; Florida Leak Locators can stop that process by utilizing our professional leak detection methods to discover and resolve all leaks. Locally owned, we offer over 50 years of combined experience among our administrative staff and are fully licensed, bonded, and insured. Stop searching for a pool leak detection company in Golden Beach – you've found us and we're ready to help.
If you suspect a leak…
Schedule an appointment today!