Pool Leak Detection Experts in Pompano Beach, Florida
A pool is the best way to cool off and relax in Pompano Beach. But when your pool or spa springs a leak, most people are anything but relaxed. If you have a leaking swimming pool, it's time to call the residential and commercial pool leak detection experts at Florida Leak Locators.
What Causes Pool Leaks In Pompano Beach?
The water level in your home's pool naturally rises and falls through precipitation and evaporation, so part of owning a pool is refilling it to the right levels. This makes it more difficult to determine if there is a leak in the pool.
These are some of the telltale signs of a leaky pool or spa:
Pool or spa has a cracked or broken return line
Broken vacuum line
Main drain in pool or spa leaking around mud ring or the line is broken
Skimmer has a hole, crack, or broken line, or is pulling away from the pool shell
Pool or Spa light conduit is broken or mud ring is leaking
Leak around pool fittings
Spa jet-line broken
Structural or beam damage
These are the most common sources of leaks. However, there are other times where the leak is due to an issue with the pool's plumbing components or pipes. When it comes to a plumbing issue, our Florida Leak Locators team can pinpoint the leak's source and make the right recommendations to repair it.
How Are Pool Leaks Repaired?
The way that our Pompano Beach pool repair experts will fix the problem depends on its source. The most common kinds of pool and spa leak repairs are:
Fittings Leak: A leak around the jets, lights, or faceplates, which can usually be filed by caulking using a waterproof silicone gel
Plumbing Leaks: These require a licensed contractor to fix and can either be problems with the pipes or the plumbing equipment itself. Sometimes, the plumber may need to dig around the pool's foundation and completely replace the damaged pipes; other times, the pipes may be repaired with a no-dig solution like cured-in-place sealing.
Main Drain Leaks: Many leaks in a pool's main drain are located in the sump itself. Applying a temporary epoxy patch can stop the leak and a more permanent repair can be done in the near future. However, if you have a broken main drain pipe many times you can plug it and turn it off at the equipment side to prevent further leaking while waiting for the repair.
Skimmer Leak: This may be patched with epoxy for a temporary fix until the skimmer can be replaced.
Without prompt, precise pool leak repair, the water leak can result in higher utility bills and serious damage to your property. The excess water leaking from the pool can drive up your water costs and even have an impact on the pool's foundation.
Commercial Pool or Spa Leak Repair in Pompano Beach
We also help business owners in Pompano Beach with commercial pool leak detection and repair. We'll identify leaks in your property's pool or spa and recommend the right repairs to keep things working great for your customers. With our pool and spa leak detection, you'll keep your customers happy.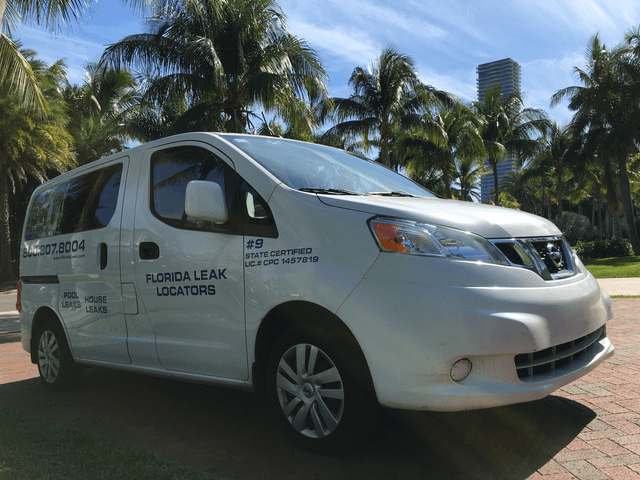 Pool Leak Repair Near You
You don't have to leave Pompano Beach to find the best pool leak repair service near you.
The team at Florida Leak Locators has over 50 years of combined commercial and residential pool leak repair experience, and we put that knowledge and skill to work for you.
We are licensed, bonded, and insured. Contact us today for a complimentary estimate for leak detection and repair.
If you suspect a leak…
Schedule an appointment today!