Pool Leak Detection Experts in Southwest Ranches, Florida
Pool leaks in Southwest Ranches, Florida, are nothing to play around with. One tiny pool or spa leak can cost you hundreds of dollars and compromise the integrity of your pool. Protect your pool or spa by calling Florida Leak Locators to come troubleshoot the problem today.
Pinpointing the cause of a pool leak can sometimes be the most difficult part of the task and is why you need a professional leak detection expert in your corner.
Common causes of pool leaks include:
Cracked return line
Main drain issues
Broken vacuum line
Pool fittings leak
Broken spa jet-line
Skimmer holes or leaks
While you may not notice these problem areas, the quickest sign you've sprung a leak in your pool or spa is an alarmingly high water bill or the water level goes down more than a ¼ inch daily.
How Are Pool Leaks Repaired?
Pool leak repair depends heavily on the cause of the pool leak. For instance, if the problem is with a return line fitting, then sometimes epoxy will be used to solve the problem. In other cases, a more permanent repair is required by replacing broken or a cracked section of pipe. This is just a handful of the many ways that a pool can be repaired.
Below are the common repairs we make:
Fittings Leak: Leaks near the pool's lights, faceplates, or jets can usually be temporarily patched by applying a two-part pool epoxy
Plumbing Leaks: These can be cracked or broken underground pipes located outside the pool shell. This requires a licensed contractor such as Florida Leak Locators, who is experienced in pinpointing leaks and pool repair, so you get it fixed properly the first time. Sometimes, the only option is to dig around the pool's foundation to replace the section of broken pipe.
Main Drain Leaks: Many leaks in a pool's main drain are located in the sump itself. Applying a temporary epoxy patch can stop the leak and a more permanent repair can be done in the near future. However, if you have a broken main drain pipe many times you can plug it and turn it off at the equipment side to prevent further leaking while waiting for the repair
Skimmer Leak: This may be patched with epoxy for a temporary fix until the skimmer can be replaced
Once we understand where the pool is leaking from, we'll provide the right repair.
Commercial Pool or Spa Leak Repair in Southwest Ranches
Businesses that rely on pools or spas to attract customers to their properties don't have time to waste on pool repair. Due to the hot heat of Southwest Ranches, many properties use pools to tempt renters to their property, so they cannot let pool or spa leaks go unaddressed. Working with a company with commercial pool leak repair experience allows you to rest assured the problem will be fixed promptly. Don't waste water and money; call Florida Leak Locators right away.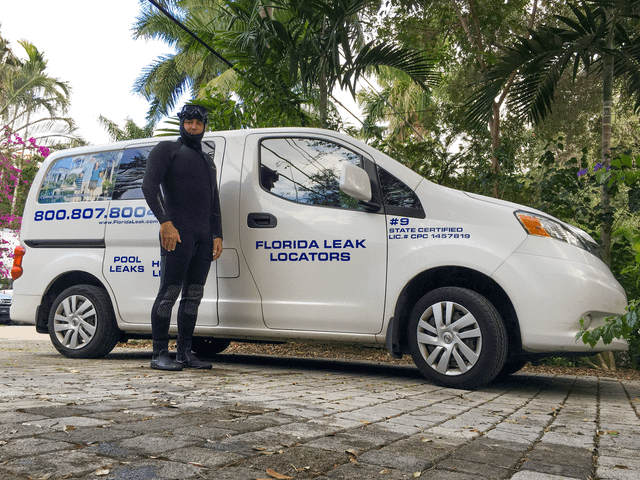 How Do I Find a Pool Leak Detection Service Near Me?
If you are experiencing a pool leak, you need expert help immediately. With over 50 years of combined experience detecting leaks, our locally-owned business is committed to helping our neighbors. As a fully licensed, bonded, and insured pool leak detection and repair business in Southwest Ranches, we're ready to help.
Call us as soon as you suspect you have a leak on your hands.
If you suspect a leak…
Schedule an appointment today!